Two-line Wire Drawing Machine Type DDL-450/13
Product Description:
wire drawing machine can be used in drawing metal wires made of aluminum, copper, etc. Upon operating, it can complete the drawing procedures with machine set according to the specifications at once, from feeding to finished product. The speed of the rear roll is increasing in sequence along with the thinning and lengthening of the wire rods. It is widely applied to the manufacturing of standard parts (e.g. welding rod, wire nail, screw, etc), lead, wire rope, spring etc.

The machine has complete electrical system, perfect protection system and tap water seal cooling system, featured by easy combination, high productivity and convenient operation and management.

Specification Parameters:
Max.inlet rod diameter

∮9.5mm*2(Al)

∮8.0mm*2(cu)

Outlet wire diameter

∮1.8mm~4.5mm(Al)

∮1.3~4.0mm(Cu)

Max. mechanical speed

25m/s(Al)

20m/s(Soft cu)

Dia. of capstan

∮450mm

Max. draft Nos

13

Max. length of accumulated wire

7m

Dual spooling bobbin

∮710mm

∮630mm*2 or ∮630mm

∮500mm *2

| | | |
| --- | --- | --- |
| No | Name | Parameter |
| 1 | Inlet diameter | 2 xφ8.0 |
| 2 | Outlet diameter | 2 x φ1.20~3.50 |
| 3 | Maximum Outlet speed | 25m/s |
| 4 | Maximum stretch passes | 13 |
| 5 | Fixed speed wheel diameter | φ450 |
| 6 | Drum speed ratio | 1.461~1.15 |
| 7 | Maximum die sleeve size | φ53×35 |
| 8 | Main motor | N=450kw; n=1000r/min |
| 9 | Fixed speed motor | N=110kw; n=1000r/min |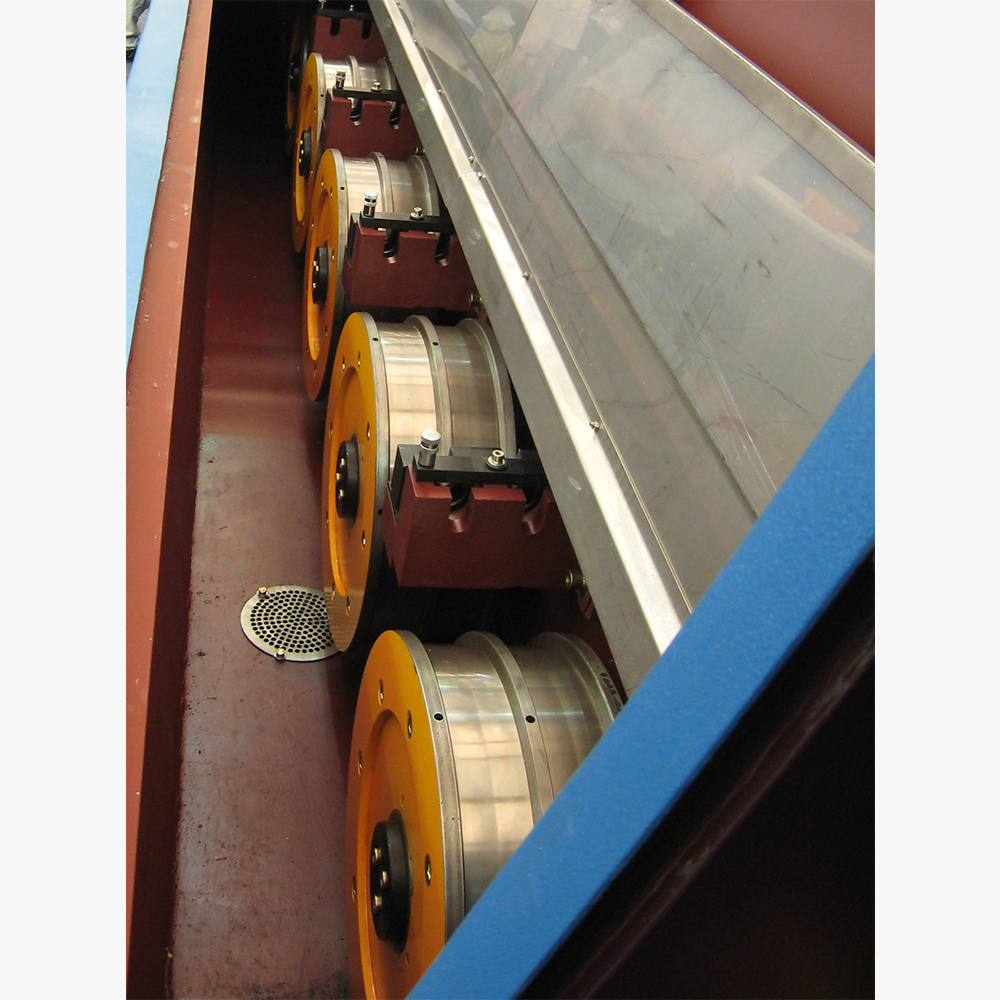 Features:
1. 2 Wires drawing at sametime which save energy and worker as well as the space.

2. Multi motor technology for energy saving and better wire quality.

3. User-friendly design and full access to the work area for easy string-up.
4. More stability, high production efficiency, low noise and easy to operation.

In 2003, Ito-sin(DeYang) Wire & Cable Equipment Co.,Ltd. was awarded the certificate of quality administration system issued by Britain DAS authority and the certificate of quality administration system approved by Britain UKAS authority. In 2005, it was approved by the international wire & cable association as one of the standing members.
Application and composition:
1. Copper and Aluminum Rod Breakdown Machine is used for drawing 2 Wires Φ9.5 Aluminum or Aluminum alloy rod to 1.8-4.5mm wires or Φ8 Copper rod to 1.3-4.0mm wires.

2. It is composed of pay-off stand, main machine, accumulator, dual spooler type φ 630/φ 500, pointing and threading unit and electric control system.

FAQ:
Q1. What information should I let you know if I want to get a quotation?
A: Item Name,Size,Initial Quality you require.
Q2. How to make the payment?
A: T/T
Q3. When will you deliver the machine?
A: Delivery Time for 3 months.