Al./Alloy Wire Drawing Machine with Individual Drive Type LFD-450/11
Product Description:
We are presenting precision Wire Drawing Machine that is developed for automatic annealing controls with lubricant enforced transmission gears and bearings. These are provided with dual spoolers and stainless steel covers for safety. It offers seamless control of spool wire tension with dancer attachment. We use the finest grades of metal alloys and other basic components to manufacture this under rigid standards of quality.

Specification Parameters:
| | |
| --- | --- |
| Max. diameter of inlet pure aluminum rod | Φ12mm |
| Max. diameter of inlet aluminum alloy rod | Φ9.5mm |
| Outlet diameter of pure aluminum wire | Φ2.2mm-Φ5.0mm |
| Outlet diameter of alloy aluminum wire | Φ2.6mm-Φ4.5mm |
| Outlet cross sectional area of shaped wire | Φ2.6mm-Φ6.0mm(at max linear drawing speed 12m/s) |
| Max. mechanical speed | 25m/s (pure aluminum in 2.2mm) |
| Diameter of drawing capstan | Φ560mm×2 (pre-drawing)+ Φ450mm×8 |
| Number of wire distribution pulley | 9 No.'s |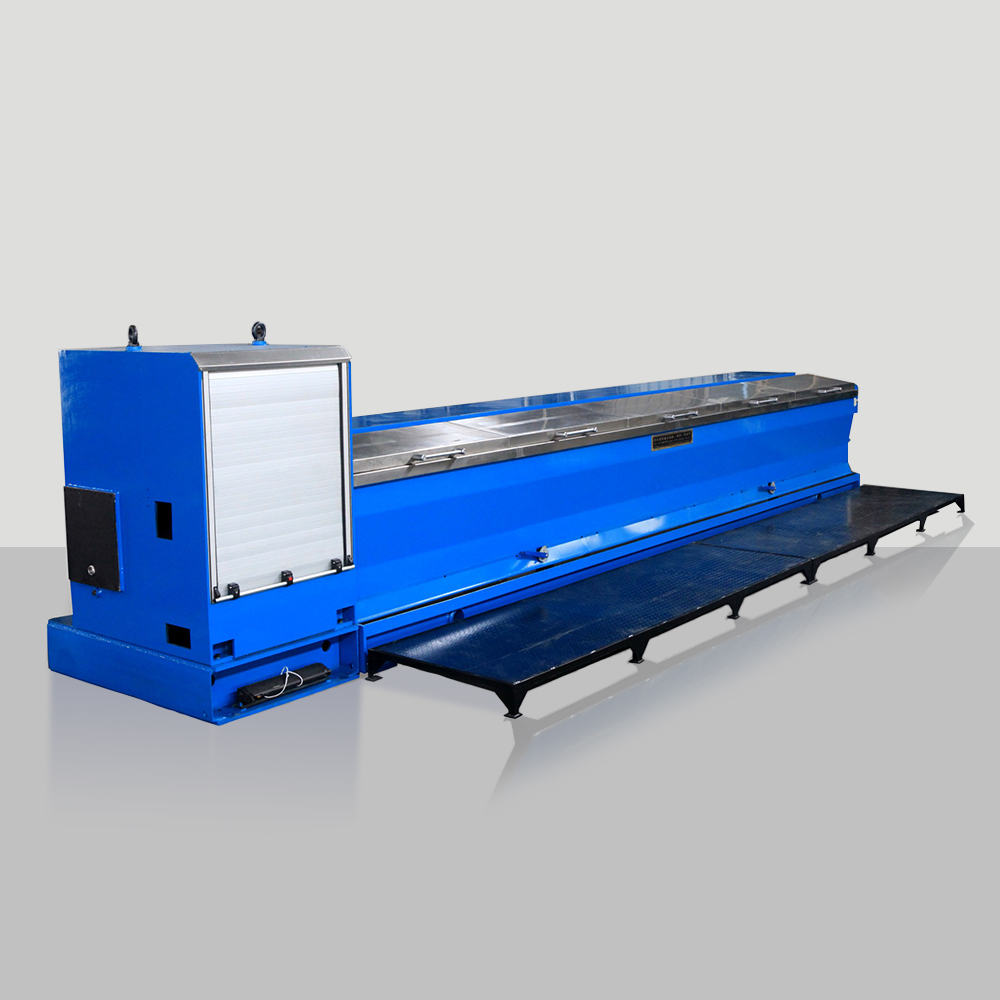 Features:
1. The drawing blocks are arranged in a horizontal single-bank tilt, and the distance between the cantilevers of all die holders are short, and in equal length, and have a strong stiffness.

2. The surface of drawing blocks is coated with tungsten carbide (powder), which is strong in hardness and abrasion resistance, and has a long life span.

3. The main drawing machine and final capstan are driven separately, and all the dies can be changed conveniently and easily.

4. Continuous dual take up, automatic reel-change, the conductor elongation is not changed when changing the reel. The success rate of automatic reel-change is more than 99%.

5. Driven by DC motor, the imported PLC and touch Screen( Siemens of Preface) are convenient for operator to set and display the parameter on the touch screen.
In 2003, Ito-sin(DeYang) Wire & Cable Equipment Co.,Ltd. was awarded the certificate of quality administration system issued by Britain DAS authority and the certificate of quality administration system approved by Britain UKAS authority. In 2005, it was approved by the international wire & cable association as one of the standing members.
Application and composition:
1. The Wire Drawing Machine is used to draw aluminum alloy wire/rod.

2. It is composed of Pay-off stand, main drawing machine, wire accumulator, automatic dual take-up device(or coiler according to customer), wire pointing & threading device, electrical control system, etc.

FAQ:
Q1. What information should I let you know if I want to get a quotation?
A: Item Name,Size,Initial Quality you require.
Q2. How to make the payment?
A: T/T
Q3. When will you deliver the machine?
A: Delivery Time for 3 months.