8-Line Wire Drawing Machine Type 21M-8/2500-8/630
Product Description:
Our multi-wire drawing machine was designed to greatly increase production capacity compared to standard drawing equipment. The drawing line can draw up to 8 pcs copper wires simultaneously. This efficiency increase is incluable to high capacity wire producers.

There are 3 rows of Drawing Cones horizontally arranged in the drawing cabinet. There is a capstan at the output of drawing cabinet and it also works as a meter counter wheel. All of the Drawing Cones are treated the ceramic coating on the surface for the purpose of wear resistance. We design the control system with PLC + HMI that makes the whole system (Multiple Wires Drawing Machine + Annealing Machine + Take-up) work with the line speed in synchronization.
Ito-Sin copper wire drawing machine guarantee first-class quality manufacture for fine and super fine wire drawing. Thanks to our long experience in the business , our engineers are able to completely tailored the most suitable solution for you, satisfy your single requirements. On our machines the transmission system significantly reduces the number of gears required and therefore minimizes friction, moreover the design ensures safer and more reliable drawing operations.
Production Speed for Reference:
| | | | |
| --- | --- | --- | --- |
| Diameter | Hard wire | Soft wire | Elongation after annealing |
| 8*0.2mm | 1400m/min | 1200m/min | 22-30% |
| 8*0.3mm | 1000m/min | 1000m/min | 25-33% |
| 8*0.4mm | 700m/min | 600m/min | 25-33% |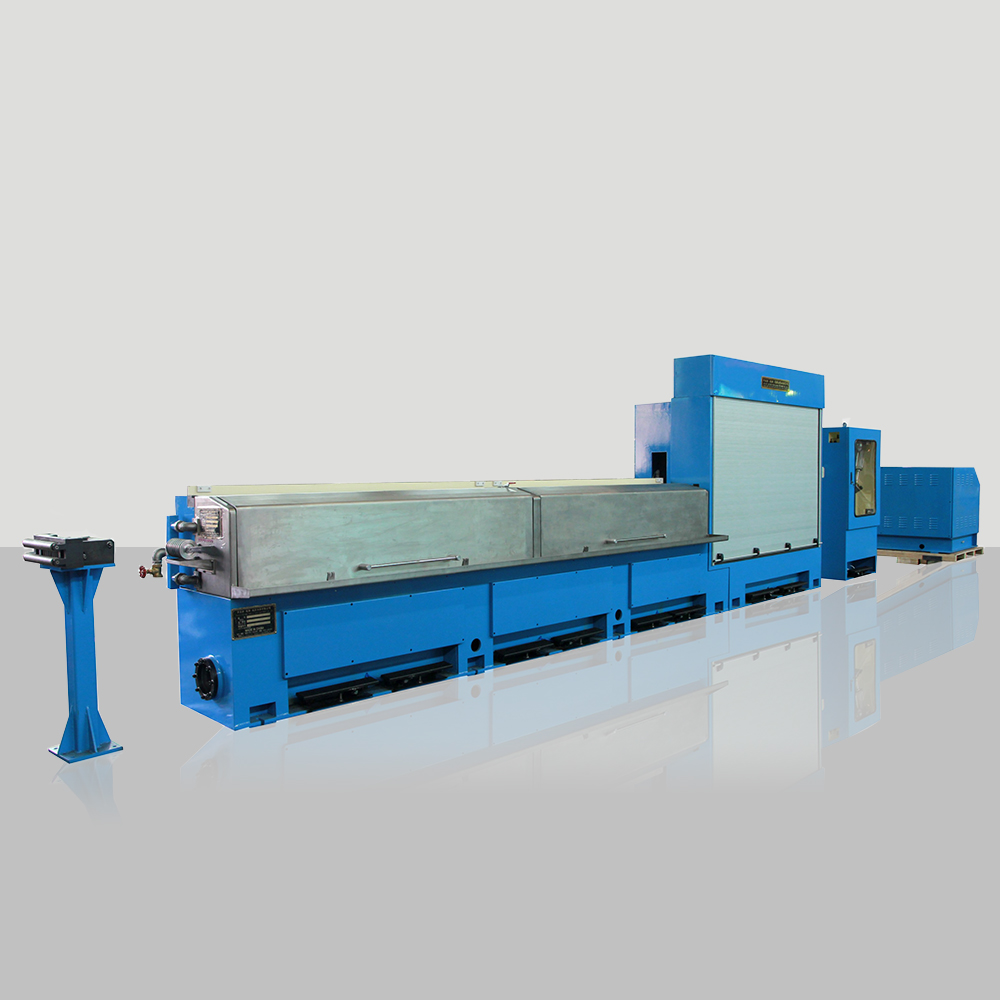 Features:
1. Extremely flexible solutions with a wide range of possible on figurations depending on the customer's requirements.

2. Multimotor technology with intermediate slip recovery for energy saving and better wire quality.

3. User-friendly design and full access to the work area for easy string-up.

4. More stability, high production efficiency, low noise and easy to operation.

5. Quick die change system for dies quantity saving 30%,Two clutches for faster speed.
2003, Ito-sin(DeYang) Wire & Cable Equipment Co., Ltd. was awarded the certificate of quality administration system issued by Britain DAS authority and the certificate of quality administration system approved by Britain UKAS authority. In 2005, it was approved by the international wire & cable association as one of the standing members.
Application and composition:
1. This machine is applicable to drawing low-oxygen or oxygen-free copper wire with maximum inlet diameter at 8x2.05mm and outlet diameter ranging from 8x0.15 to 0.68mm.

2. It is composed of multi-line wire drawing machine, annealer, and coiler with tensioned rocking bar, and electric control system, with total installed capacity at 400kva and total weight at 11,000kg.

FAQ:
Q1. What information should I let you know if I want to get a quotation?
A: Item Name,Size,Initial Quality you require.
Q2. How to make the payment?
A: T/T
Q3. When will you deliver the machine?
A: Delivery Time for 3 months.