Lead Extruder Type YQL-150/5
Product Description:
YQLΦ150/5 continuous Lead wire extruder is based on the digestion and absorption of the same type of international equipment, and is designed and manufactured with innovative design. It is mainly used for wire and cable coating lead sheath or for rubber tube coating lead vulcanization. Lead Extrusion Machine realizes continuous extruding through lead transporting by rotating screw rod. Thickness of sheathing lead can be ensured to be equal in vertical direction. In design, to control each part's temperature strictly makes each part's temperature and extruding pressure near to be invariable. This ensures thickness of sheathing lead can be controlled in the least tolerance range.
Specification:
Main Technical Data of Type YQL-150/5 continuous lead extruder:
Diameter of screw

150mm




Extruding output

Pure lead




30~45kg/min




Soft alloy lead




15~30kg/min




Hard alloy lead




13~24kg/min




Rotating speed of screw

Pure lead




6~12rpm




Soft alloy lead




6~9rpm




Hard alloy lead




6~9rpm




Lead melting furnace

18t




Lead holding furnace

10t




Die stock

Ф

20~Ф80

Ф

40~

Ф

110

Cable dia scope




Φ36~Φ152mm




Lead sheathing scope




Φ40~Φ160mm




Thickness of lead layer




1.6~4.6mm




Lead layer tolerance




± 0.2~0.5mm

Internal water circulating consumption




6~8t/h



| | |
| --- | --- |
| Cable diameter | Normal diameter ф8mm~ф130mm |
| Lead coating diameter | Normal outer diameter ф10mm~ф135mm |
| Main motor power | 110kw |
| Heating power of extrusion tube | 24kw |
| Small Die stock heating power | 24kw |
| Large Die stock heating power | 30kw |
| ΩPipe heating power | 3kw |
| 18 tons furnace Heating power | 141kw |
| 10 tons furnace heating power | 103kw |
| Other auxiliary pump parts | ~10kw |
| Total power | ~420kw (excluding retractable) |
| Power supply | AC380V 50Hz |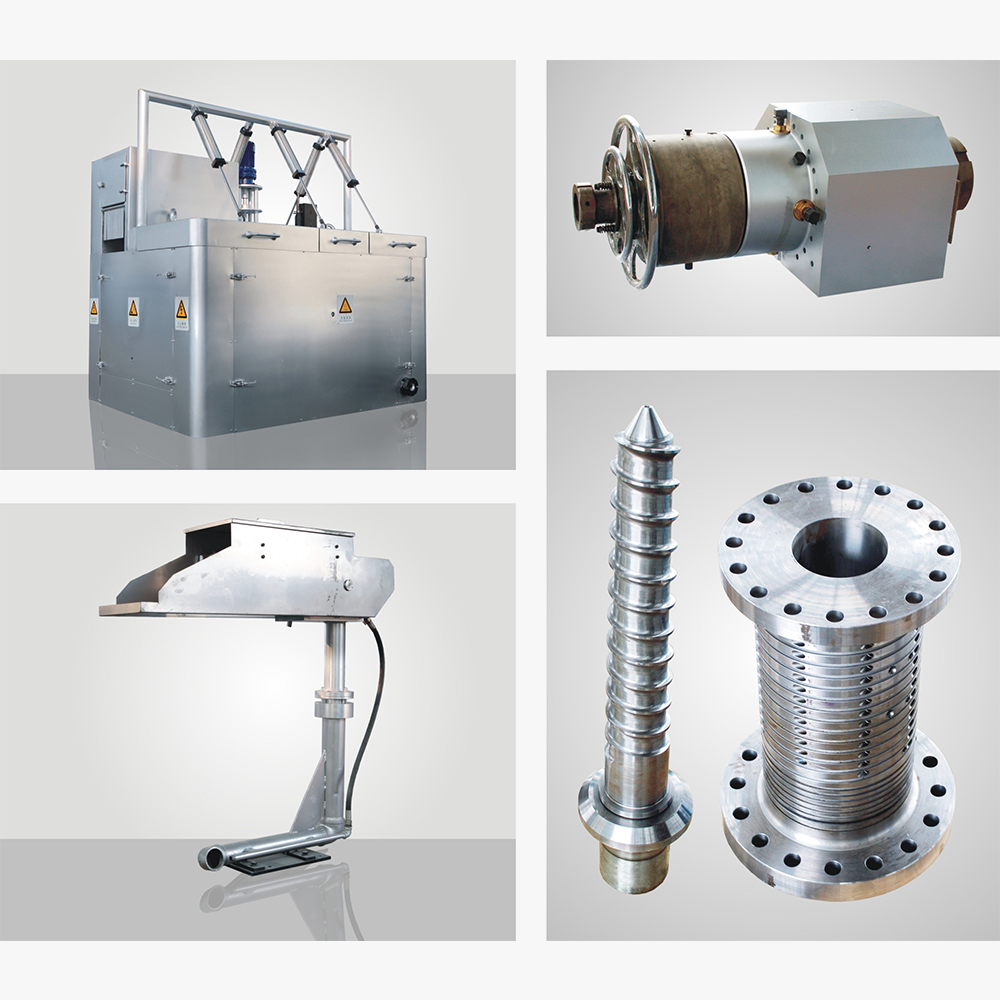 Features:
1. Outer diameter of lead layer can be made between Ф40 andФ160mm, to be achieved by two sets of extruding modules, one at diameter of Ф20~Ф80mm, another one at Ф40~Ф110mm. Users can choose either of them.

2. With a screw to feed lead, it is possible to achieve continuous extrusion, so thickness of lead layer keeps constant and even in longitudinal direction.

3. In addition, unique design for strict control of temperature in every section makes temperature and extrusion pressure constant at each section. Thus thickness of lead layer can be controlled within a minimal common difference.

4. Consumption of lead is 10% less than that of intermittent lead pressing machine.

5. Environment friendly design. The melting furnace, the purifying & holding furnace, and lead conveyor all work in an enclosed system. In addition, as temperature of molten lead is relatively low, distribution of steam is greatly minimized.

6. It conveys raw material with side transfer, driven by motor, it is convenient for storing the lead ingot and easy for operator, which reduce the labor strength, moreover it is equipped with the clips for lead ingot. A small area is needed for the machine, which is easy to operate, low in labor intensity, as only two operators are needed for the machine.
In 2003, Ito-sin(DeYang) Wire & Cable Equipment Co.,Ltd. was awarded the certificate of quality administration system issued by Britain DAS authority and the certificate of quality administration system approved by Britain UKAS authority. In 2005, it was approved by the international wire & cable association as one of the standing members.
Composition:
| | |
| --- | --- |
| Loading Unit with Rollers | 1 set |
| 18 ton lead melting furnace | 1 set |
| 10 ton Lead holding furnace | 1 set |
| ΩPipe | 2 pieces |
| 100/5 type extrusion host | 1 set (optional with large and small die stock) |
| Gear Lubricant Oil System | 1 set |
| Internal Water circulating & Cooling System | 1 set |
| Rear Water Cooling System | 1 set |
| Flow Controller (including full automatic auxiliary system) | 1 set |
| Electrical Control System | 1 set |
Electrical Control System: Touch screen exchanges data in dual ways through PLC, controls and monitors the system via PLC process. Output of PLC is transmitted to each speed regulator to control and monitor status of each device to carry out control in computer.
Power source

380V,50Hz

Total installed capacity

195KVA(excluding pay-off & take-up, etc.)

Speed regulator for AC motor

G120 series , Siemens, China

Temperature controller

RKC, Japan

General low voltage device

within63ASchneider, France

PLC

S7-1200 series , Siemens, China

Touch screen

"WEINVIEW"10`` color

Display on Touch screen

1.main machine and auxiliary devices

2.Temperature of each heating zone and set status

3.Automatic proportional valve and set status

4.Heating faults and motor faults

5.Illustrated pictures for each heating zone for watching easily and directly

6.Cooling water temperature and liquefied lead level

7.Shift for auxiliary pumps

Display on recorder(equipped with printer port to collect the data)

1.Current of main machine and diagram of rotary speed

2.Temperature diagrams of upward, middle and below extruding barrel

3.Linear diagram(signal from spooling dancer)

4.Diagram of Upward, middle and below automatic proportional valve

5.Oil temperature diagram of gear box

Alarm

Abnormal control of main motor, low pressure or over temperature of lubricant oil

Control of feeding material for pot

Automatically open feeding motor after liquefied lead alarm

Electrical control cabinet

Fully closed structure similar to Rittal, equipped with air condition to ensure the cleanness in cabinet and normal work of system

Heating for omega pipe

Adopt jumping heating method to ensure normal work

Heating die stock

Divide into three zones to ensure easy operation
FAQ:
Q1. What information should I let you know if I want to get a quotation?
A: Item Name,Size,Initial Quality you require.
Q2. How to make the payment?
A: T/T
Q3. When will you deliver the machine?
A: Delivery Time for 3 months.