Horizontal Lead Stripper Type BQ-180
Product Description:
The machine is mainly used for stripping lead off lead-clad rubber pipe. It is a kind of light-duty lead stripping device for vulcanized lead in the course of rubber production.

Specification Parameters:
| | |
| --- | --- |
| Central height | 1000mm |
| Equipment dimensions | 3000mmx1124mmx1720mm |
| Linear speed | (max) 11 meter/min |
| Cutting depth | 1~8mm (adjustable) |
| Diameter range of metallic sleeve | φ25~φ180mm |
| Main motor | 15Kw, AC motor with frequency change |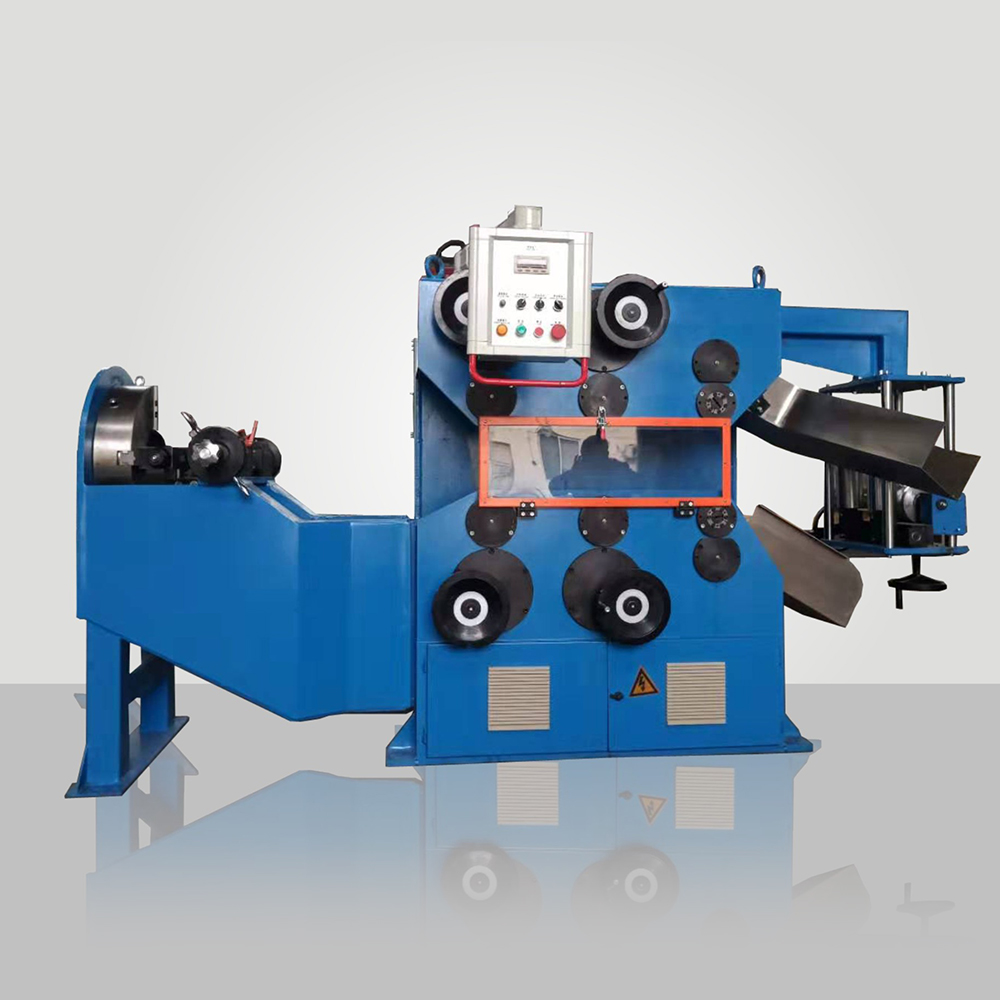 Features:
Lead stripped metal sheath structure
1.φ100mm—φ180mm wire diameter: Use left and right tool adjustment seat, telescopic adjustment round handle cutting knife, 2-level screw adjustment (coarse adjustment 4mm/week + fine adjustment 2 mm/week) to ensure the accuracy of cutting and avoid cutting the inner sheath Or cable core.

2. Φ25mm—Φ100mm wire diameter: The left and right double fine-tuning tool holder is installed on the 500 four-jaw linkage chuck. The four-jaw linkage chuck can effectively position the cable to be stripped in four directions, up, down, left, and right. Fine-tune the cutting knife installed on the left and right positions of the chuck to accurately feed (1 mm/week) to ensure that the inner sheath or cable core is not cut.

3. Metal sheath cutting method: the cut metal sheath has two sets of tooth-shaped traction rollers, each of which is rolled and flattened, then enters the spiral roller knife to cut into sections, and then passes through the blanking groove and finally falls into the receiving container. The length of the cutting section is 70mm.

4. Transmission structure: The 15Kw frequency conversion motor is transmitted to the gear through the K series gear reducer through the timing belt, driving the upper and lower traction rollers and the upper and lower cutting rollers to move synchronously to complete the cutting and blanking of the metal sheath.
In 2003, Ito-sin(DeYang) Wire & Cable Equipment Co.,Ltd. was awarded the certificate of quality administration system issued by Britain DAS authority and the certificate of quality administration system approved by Britain UKAS authority. In 2005, it was approved by the international wire & cable association as one of the standing members.
Special Note:
This machine needs to be used in conjunction with the production line of the attached machine part (rear tractor, take-up machine). Part of the attached machine is provided by the buyer.
FAQ:
Q1. What information should I let you know if I want to get a quotation?
A: Item Name,Size,Initial Quality you require.
Q2. How to make the payment?
A: T/T
Q3. When will you deliver the machine?
A: Delivery Time for 3 months.