Copper Rod Upward Continuous Casting Line
Product Description:
Upcast copper rod machine is mainly for making copper bar, copper tube, copper strip and other different shape materials. It has many advantages such as continuous casting with high efficiency and large output, producing multiple product types with different sizes or structures, automatic control, products of high electric conductivity and low oxygen content. It's widely used in many copper industries, such as copper wires, electric cables, air-condition cooling pipes and so on.
Working principle:
Put crystallizer into molten copper liquid, and freeze the rising copper. Servo-control system will have th solidified copper bar continually go upward by a reducer. Copper products of different size can be produced when equiped different types of crystallizer.


Product Appearance (Structure):
| | |
| --- | --- |
| 1. Continuous casting machine: | 1set |
| 2. Front traction machine: | 1set |
| 3. Slitting roller: | 1set |
| 4. Straightening chamfering machine | 1set |
| 5. Roughening machine: | 1set |
| 6. Feeding machine: | 1set |
| 7. Continuous rolling machine: | 12 racks |
| 8. Copper rod reduction and cooling system: | 1set |
| 9. Hydraulic coiler take-up machine: | 1set |
| 10. Weighing device: | 1set |
| 11. Hydraulic packing machine: | 1set |
| 12. Emulsion filter(basket type): | 1set |
| 13. Electronic control system: | 1set |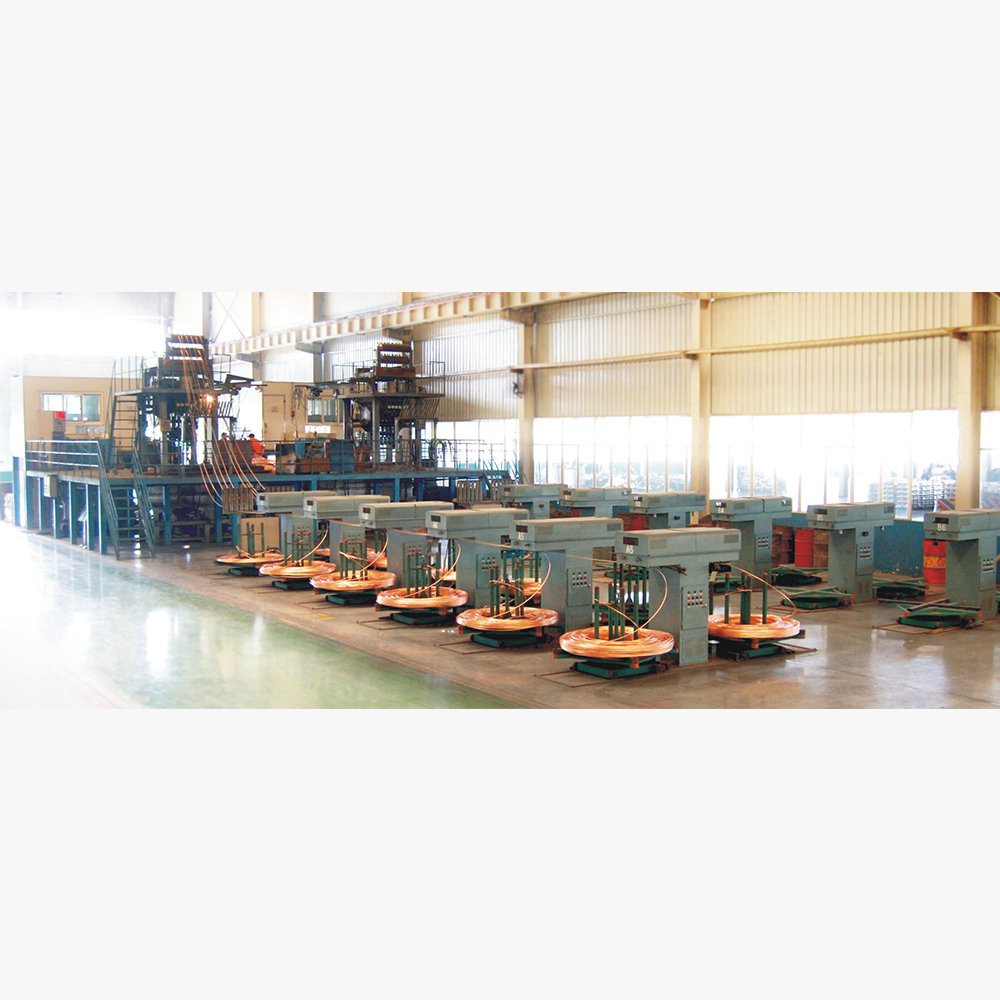 Features:
1. High accuracy and low backlash planetary reducer is used to make the freezing time more accurate, thus to increase the crystallzing quality.

2. The gapless connecting expansion sleeve is used for the traction device, the PLC is used to control the servo motor correctly, and to assure that each order from the PLC is correct and accurate.

3. Quick lifting device is used for installing and changing the crystallizer, it can be finished within 10 seconds. When water or power supply stops, the crystallizer can be lifted quickly and leave the copper liquid.
In 2003, Ito-sin(DeYang) Wire & Cable Equipment Co.,Ltd. was awarded the certificate of quality administration system issued by Britain DAS authority and the certificate of quality administration system approved by Britain UKAS authority. In 2005, it was approved by the international wire & cable association as one of the standing members.
Application and composition:
1.The Copper Rod Upward Continuous Casting Line is specially used for manufacturing oxygen-free or low oxygen copper rod and tube from cathode copper.

2.It consists of electric induction furnace, upward casting mechanism, drive unit, tension tracking device, coilers and electric control system.

FAQ:
Q1. What information should I let you know if I want to get a quotation?
A: Item Name,Size,Initial Quality you require.
Q2. How to make the payment?
A: T/T
Q3. When will you deliver the machine?
A: Delivery Time for 3 months.