AL/AL-Alloy Rod Continuous Casting & Rolling Line Type LZLZ-1600+255/14
Product Description:
Aluminum rod continuous casting and rolling line can produce three kinds of conductive aluminum rods of 15, 12, 9.5mm. 15mm aluminum rod is produced by 11 rolling stands; 12mm aluminum rod is produced by 13 rolling stands and 9.5mm aluminum rod is produced by 15 rolling stands.

1. Equipment usage
This equipment uses a new four-wheel continuous casting machine and continuous casting and rolling process to produce ¢9.5m aluminum-magnesium-silicon high-strength conductive round aluminum rods (alloy grades 1, 3, 6, 8 series). In the production line, the induction heater guarantees the process temperature requirements of the ingot rolling, and has the function of ingot heating adjustment. The continuous rolling mill has the function of active feeding and stacking rod parking. At the same time, it is equipped with an active traction device to ensure the smooth export of aluminum alloy rods. . The arc guide tube adopts a roller guide structure to reduce scratches on the surface of the aluminum alloy rod. The rod winding method is a centrifugal head swing type, on the one hand, the aluminum alloy rod is pre-deformed before entering the wire take-up frame; on the other hand, if the rod breaks during the rolling process, the rod tail can automatically enter the wire take-up frame. There is a trolley mobile reel-changing and wire-storing device, so that the rods will not be messed up when changing reels, so as to ensure that the continuous double-reel loop forming device can take up the wire. This unit can also produce electrical round aluminum rods.
2. Simple technological process
The block diagram of the process flow is as follows:
Vertical melting furnace→hydraulic tilting holding furnace→four-wheel continuous casting machine→front traction→rolling shear (including hydraulic shear)→straightening machine→multiplier heater→continuous rolling mill (including feeding device)→quench cooling device → Rear traction → Looping off the wire frame → Aluminum-magnesium rod
Specification Parameters:
| | |
| --- | --- |
| Cross-sectional area of casting | 2300mm2 |
| Diameter of output rod | ∮9.5mm±0.5mm |
| Output capacity | Max. 5t/h |
| Overall dimension | 38000×7800×5600mm (not including melting furnace, holding furnace, lubricating system, cooling system and emulsion tank) |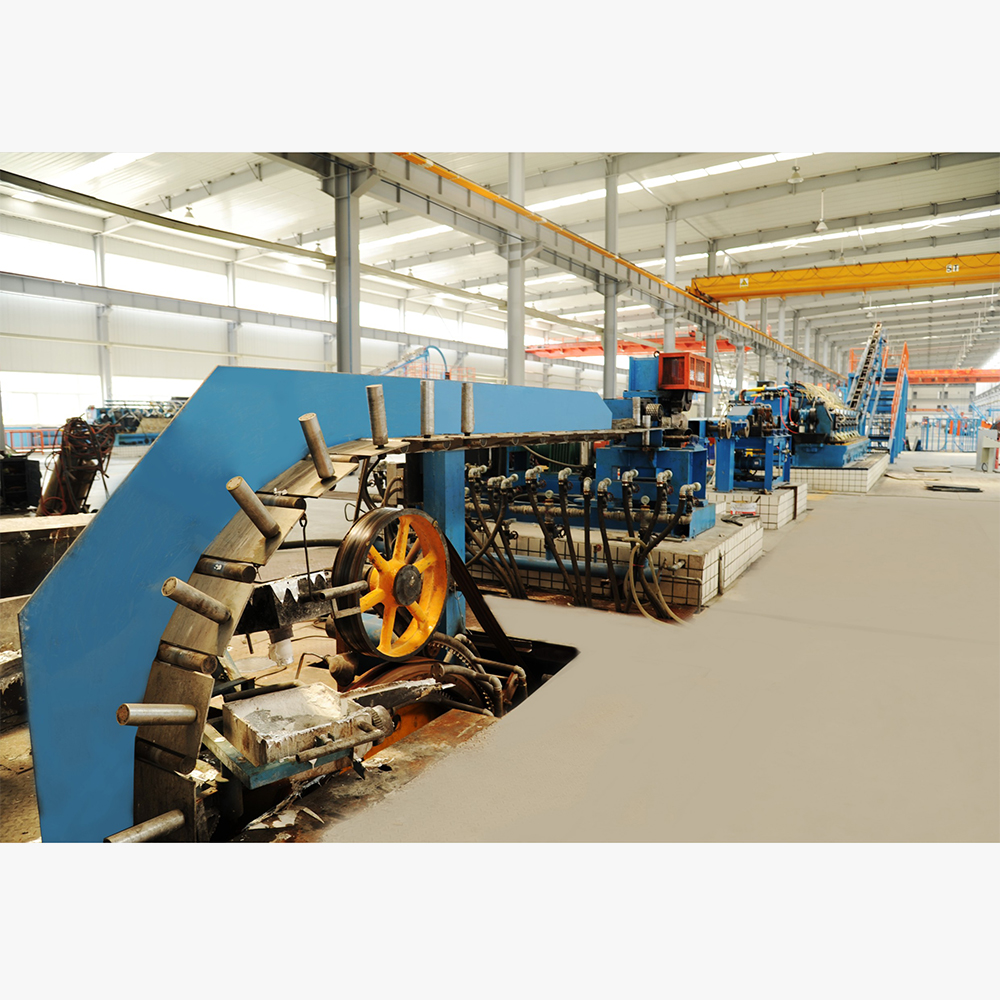 Features:
1. The line adopts double-wheel casting machine featuring simple structure and strong practicality.

2. Rolling Mill is composed of 2-high mould rolling stand and Y-type 3-high mould rolling stand.

3. Main transmission is driven by 250KW DC motor, the transmission for gear box has advantage of low noise and stable drive.

4. The coil's downline stand is mainly made up of meatus, rod winding device and other parts.

5. The whole line is controlled by DC device, with the function of protection and fault diagnosis.

In 2003, Ito-sin(DeYang) Wire & Cable Equipment Co.,Ltd. was awarded the certificate of quality administration system issued by Britain DAS authority and the certificate of quality administration system approved by Britain UKAS authority. In 2005, it was approved by the international wire & cable association as one of the standing members.
Application and composition:
1. The production line mainly consists of melting furnace, holding furnace, double-wheel continuous casting machine, haul-off for rotary shears, oil hydraulic shears, straightener, induction heater, continuous rolling machine, take-up, electric control, and etc.
2. The line is used for manufacturing high-strength conductive aluminum and alloy pole.

FAQ:
Q1. What information should I let you know if I want to get a quotation?
A: Item Name,Size,Initial Quality you require.
Q2. How to make the payment?
A: T/T
Q3. When will you deliver the machine?
A: Delivery Time for 3 months.