Cu Rod Middle Drawing Machine Type ZL250/17 with Annealer and Dual Spooler
Product Description:
This Cu Rod Middle Drawing Machine is special for copper wire 0.4-1.2mm. Finished wire is wound by the 630 single or dual bobbin automatic change take-up machine. Power Transmitted by high accuracy bevel gears which are driven by AC two motors, lower noise, easier maintenance and reliable quality; To draw 17 copper wires at the same time, which will improve the quality ,meanwhile, it reduce the power consumption and reduce labor cost significantly. Two types annealing part are available.
1. Equipment composition

One host of LHT-250 wire drawing machine

TH-200 tie head threading machine set

One set of TH-2000 annealing machine

DZG-6D steam generator set

WS-630 take-up machine one set

Pay-off machine set

Main engine oil pump set

Annealing pump set

Console one

Electrical operating system one set

2. Technical parameters

2.1 Maximum inlet specification: max.3.5mm

2.2 Maximum outlet specification: φ0.5—φ1.6mm

2.3 Maximum number of passes: max. 17

2.4 Maximum speed: max.25m/s

2.5 Mechanical reduction rate: 20% (15.5% for rated diameter of die)

2.6 Drum diameter: 250mm

2.7 Main engine power: AC 55 KW

2.8 Take-up host power: AC 15KW

2.8 Overall size of drawing machine: 12000x2900x3400mm

2.10 Total net weight: 8000 kg
Lubrication part
Specification Parameters:
| | |
| --- | --- |
| Inlet wire diameter | MaxΦ3.0mm |
| Outlet wire diameter | Φ0.4mm-Φ1.2mm |
| Max. Linear speed | 1500m/min (free load) |
| Max. Diameter of drawing cone | Φ250mm |
| Diameter of final capstan | Φ250mm |
| Max number of drawing dies | 17 No.'s |
| Diameter of drawing die | Φ25mm×10mm |
| Number of drawing cones | 4 No.'s |
Lubrication part
Temperature
≤40℃
Flow
12~18m = 3 \* Arabic 3/h
Power supply
3-phase voltage
~3×380 VAC(±10%)
Single phase voltage
~220 VAC(±10%)
Power
50 Hz (±2%)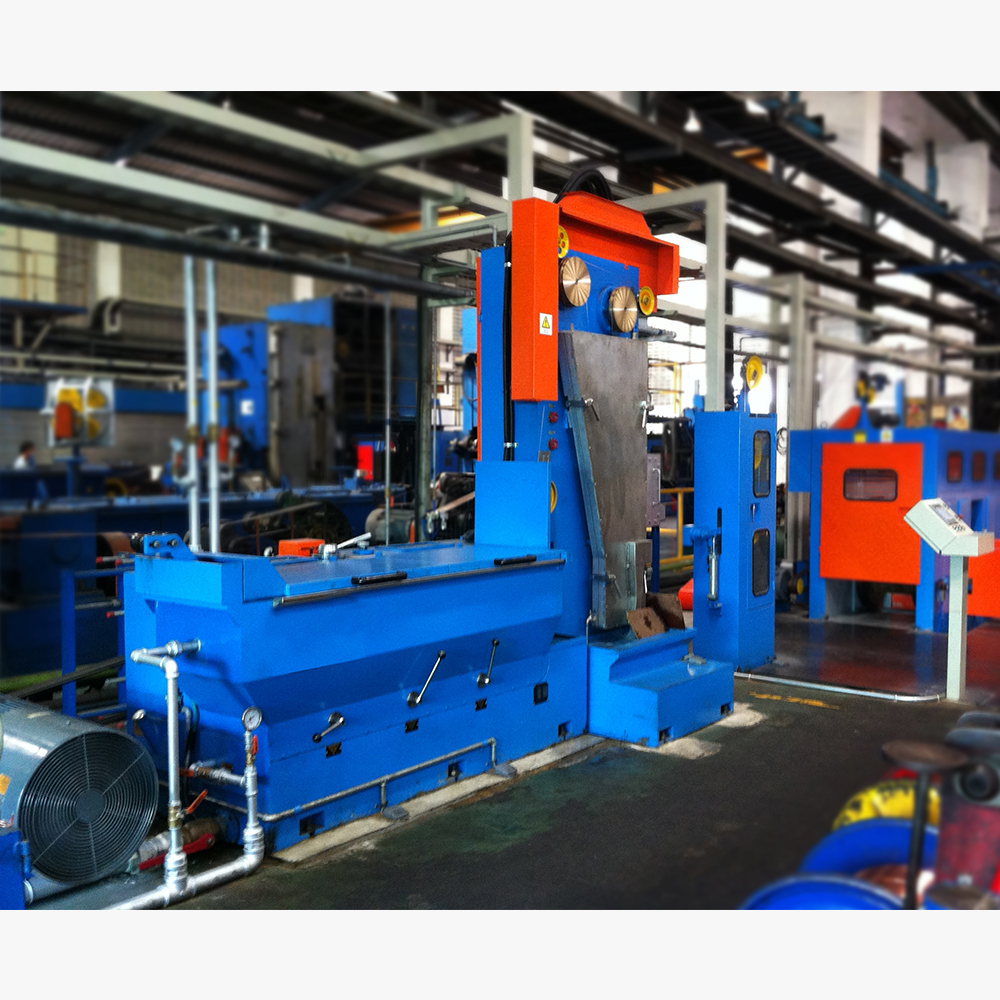 Features:
1. Special seal system between the gear box and drawing section to prevent oil leakage and mixed.

2. Ironed cast and Wear-resistant capstan can keep long life.

3.For Second-section-annealing system, outside electrically neutral (no current flow to other unit)

4. Longer annealing section with tension ensure good and stable elongation.

5. Two types annealing were available to meet different size range and raw material.

6. Besides normal copper, also is a good choice for brass and some welding wire.
In 2003, Ito-sin(DeYang) Wire & Cable Equipment Co.,Ltd. was awarded the certificate of quality administration system issued by Britain DAS authority and the certificate of quality administration system approved by Britain UKAS authority. In 2005, it was approved by the international wire & cable association as one of the standing members.
Application:
It is used to drawing and annealing copper rod. In addition, it is applied to making electric wire. Our company will provide a series of production equipment to meet our customers' need, concluding drawing machine, rigid frame stranding machine and extruder.
FAQ:
Q1. What information should I let you know if I want to get a quotation?
A: Item Name,Size,Initial Quality you require.
Q2. How to make the payment?
A: T/T
Q3. When will you deliver the machine?
A: Delivery Time for 3 months.